As a long-time community partner of Forge City Works (formerly Billings Forge Community Works), Trinity College recently joined in celebrating FCW's progress towards opening a new restaurant on Broad Street, tentatively named Fire by Forge— which will be part of the social enterprise's vocational training program in cooking and customer service.
On Wednesday, August 3, significant progress toward FCW's planned new restaurant was announced during a "Finish the Elevator" barbecue attended by FCW supporters. Forge City Works surpassed its original fundraising goal of $75,000, the amount needed to qualify for the Hart Lift Matchmaking Program through the Hartford Chamber of Commerce. The rally was held at 539 Broad Street, the future home of the new restaurant and former site of the Firebox restaurant, which closed in 2020 due to the pandemic. Attendees enjoyed a tailgate-inspired menu created by Executive Chef Andy Perri and prepared by Culinary Program interns, toured the space, and learned about the life-changing experiences interns gain through the program.
Located less than a mile from the Trinity campus, FCW's mission is "Improving Lives Through the Power of Food." One of its programs, The Kitchen cafe and catering business at 559 Broad Street, is a favorite among Trinity College students, staff, alumni and visitors. But not everyone who stops in for a meal or the famous chocolate chip cookies knows about FCW's on-the-job training for adults facing barriers to employment such as poverty, a criminal record or homelessness.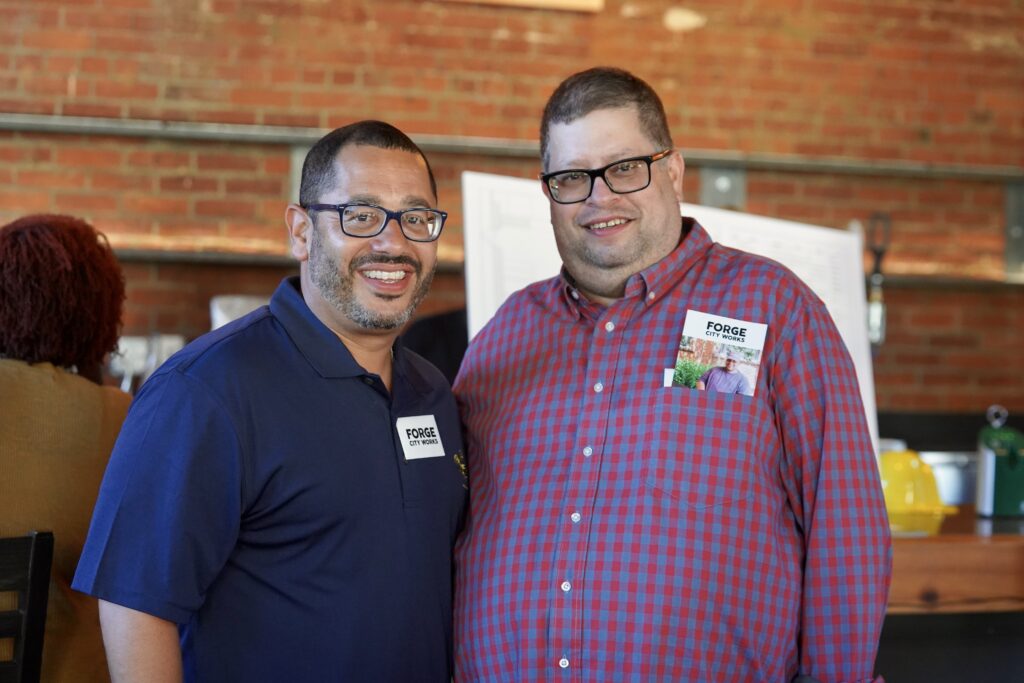 "We continue to be overwhelmed by the level of positive community support for this project, from partners like Trinity College and other major community players, to people who love our mission and who have always supported our work. Fire by Forge will not only be another great restaurant in Hartford, but represents a major step forward in our commitment to our core mission of providing life-changing job training and support for those facing serious barriers to employment." , said Ben Dubow, Executive Director. of Forge City Works.
In addition to vocational training in cooking and customer service and running successful and sustainable social enterprises such as its cafes and catering businesses, FCW increases access to healthy, locally grown food through its farmers market.
Over the years, several Trinity students and alumni have worked with FCW as interns, volunteers, or staff. Trinity's Center for Hartford Engagement and Research (CHER) counts FCW among local community partners with whom it has collaborated on Community Learning Program projects and courses, including an American Studies Department course on "Food and American culture.
Carlos Espinosa '96, M'98, Director of Community Relations for Trinity and Trinfo.Café, is currently a member of the FCW Board of Directors and Jason Rojas M'12, Chief of Staff for Trinity and Associate Vice President for external relations, is a former member of the board of directors. member.
Learn more about Forge City Works: www.forgecityworks.org.